Are you curious about the famous Austin XL smoker? With this Pit Boss Austin XL review, we will bring you a deep analysis of what makes it so good.
It is not at all an easy thing for a brand to make a product significantly better than its predecessors. However, that is exactly what Pit Boss did, and we will discuss the how in this Pit Boss Austin XL Review.
With such a low price, how does this smoker stand leaps and bounds above the competitors? The answer is complicated, as there are quite a lot of things Pit Boss did right, from the wheels to the controller.
What Is The Pit Boss Austin XL?
Back in the 90s, Traeger was reigning, and no other brand can challenge them. This changed with the debut of the Pit Boss brand in 1999 as a Dansons subsidiary. The company instantly made its name with the legendary Louisiana line of pellet smokers.
The Pit Boss Austin XL is the successor of the Louisiana line.
These smokers perfectly embodied the philosophy of the company at the time. They are easy to use, easy to move, and very affordable.
After the discontinuation of this smoker line, many people thought that it was the end of the Pit Boss streak. However, they were soon proven wrong, as Pit Boss put out a new product called the Pit Boss Austin XL.
While the Louisiana pellet smokers focus on being as approachable as possible, the Austin XL is purely for huge parties. It is the prime example of the modern-day Pit Boss, a widely-known smoker manufacturer for enthusiasts.
In-Depth Pit Boss Austin XL Review
Now that you have a general idea about Pit Boss and the Austin XL, let's delve into the full review.
Smoking Performance of Pit Boss Austin XL
There is almost nothing that this pellet smoker isn't capable of doing. From low and slow smoking to open flame searing, the Austin XL can do it all. The reason for such an impressive smoking capability lies in the smoker's wide temperature range.
Aside from smoking, this smoker can also serve as a griller.
You will be impressed with how fantastic a job the hopper does in feeding the pellets to the firebox. Once you have chosen the temperature, the wood pellets feeding process will be at the exact rate necessary to get that temperature.
There is no Wi-Fi, which is not that much of a surprise given the price range this smoker is at. However, you do get an auto start/stop feature. You no longer need to check on it constantly.
Portability
Just like most pellet grills, you should not expect too much portability out of the Pit Boss Austin XL. At the end of the day, it is chock-full of features like a spacious hooper, a huge cooking area, etc. These are all useful features, but they are also undeniably space-consuming as well as heavy.
However, that does not mean that the Austin XL does not have any movability. Pit Boss gave this smoker two lockable wheels in the front and two huge ones in the back. These wheels make moving them around much less of a hassle, as long as you have enough space.
After moving, all you need to do is lock the front wheels, and the smoker would stand completely still.
Digital Controller
Traditional smokers require you to do everything manually, from fire starting to temperature control. That is no longer the case with the Pit Boss Austin XL, thanks to its master digital controller.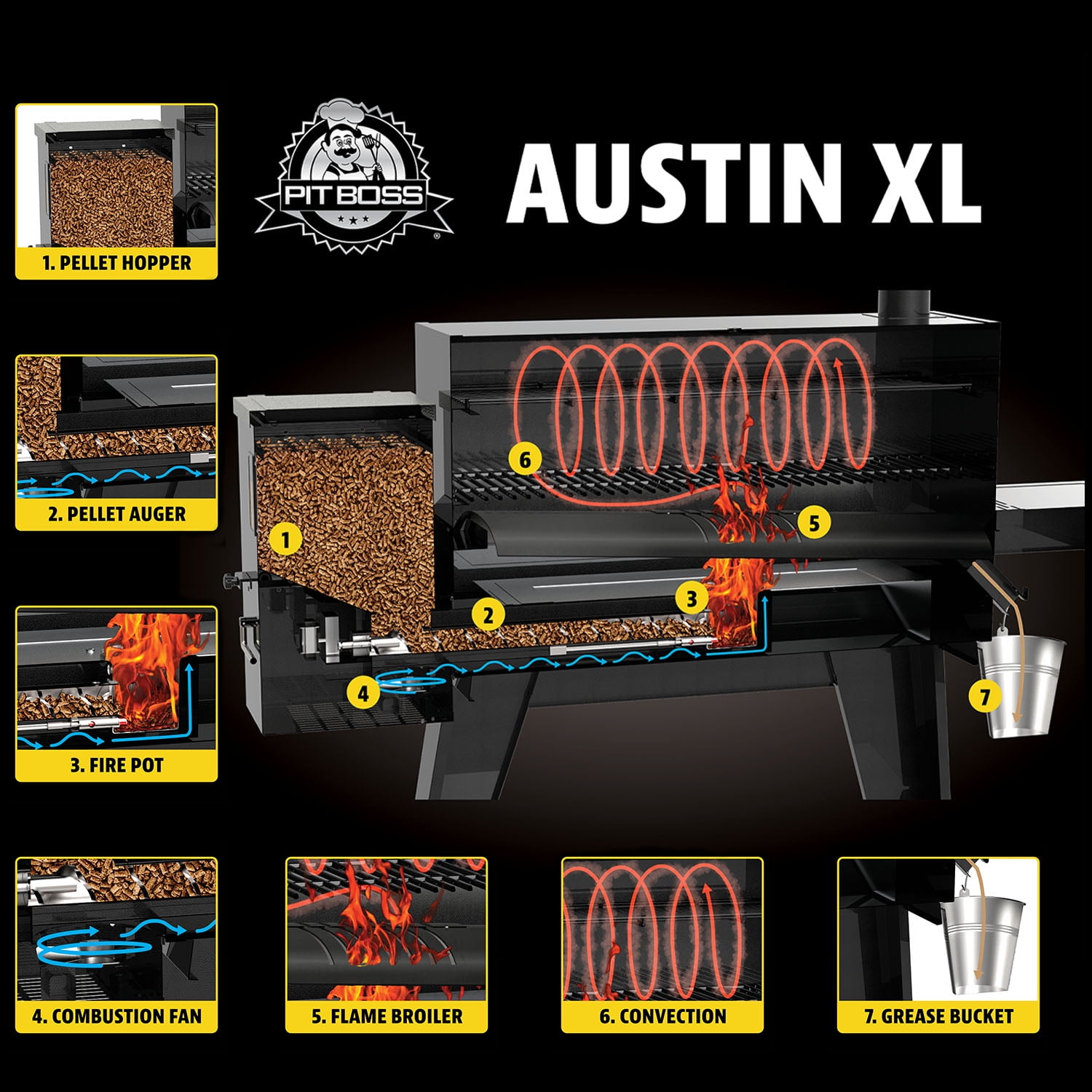 Here is how this smoker works.
This controller features an LCD monitor displaying an accurate read on the internal temperature. If you are not satisfied with the number, you can easily configure it with the temperature control knobs.
In other words, you no longer need to open the smoker up to check or regulate the heat. This means that there is close to no smoke escaping to the outside world. Believe us, you want the smoke to stay there in the smoking chamber, as it will give your meat flavor.
Ease Of Cleaning
A smoker must always be cleaned after use, or you risk your health with its next utilization. In this aspect, we must say that the Austin XL did quite a fantastic job.
Every single square inch of this smoker's cooking space received a porcelain coating. If you don't know, porcelain is among the strongest against murkiness. Thanks to its utilization, the time you need to spend washing the grill is significantly reduced.
Durability
The beautiful color scheme that the Pit Boss Austin XL wears isn't here just to look pretty. For instance, the sleek copper finish on the lid, chimney, and hood are capable of withstanding high temperature easily. This finish is also quite resistant to corrosion, rust, and flame.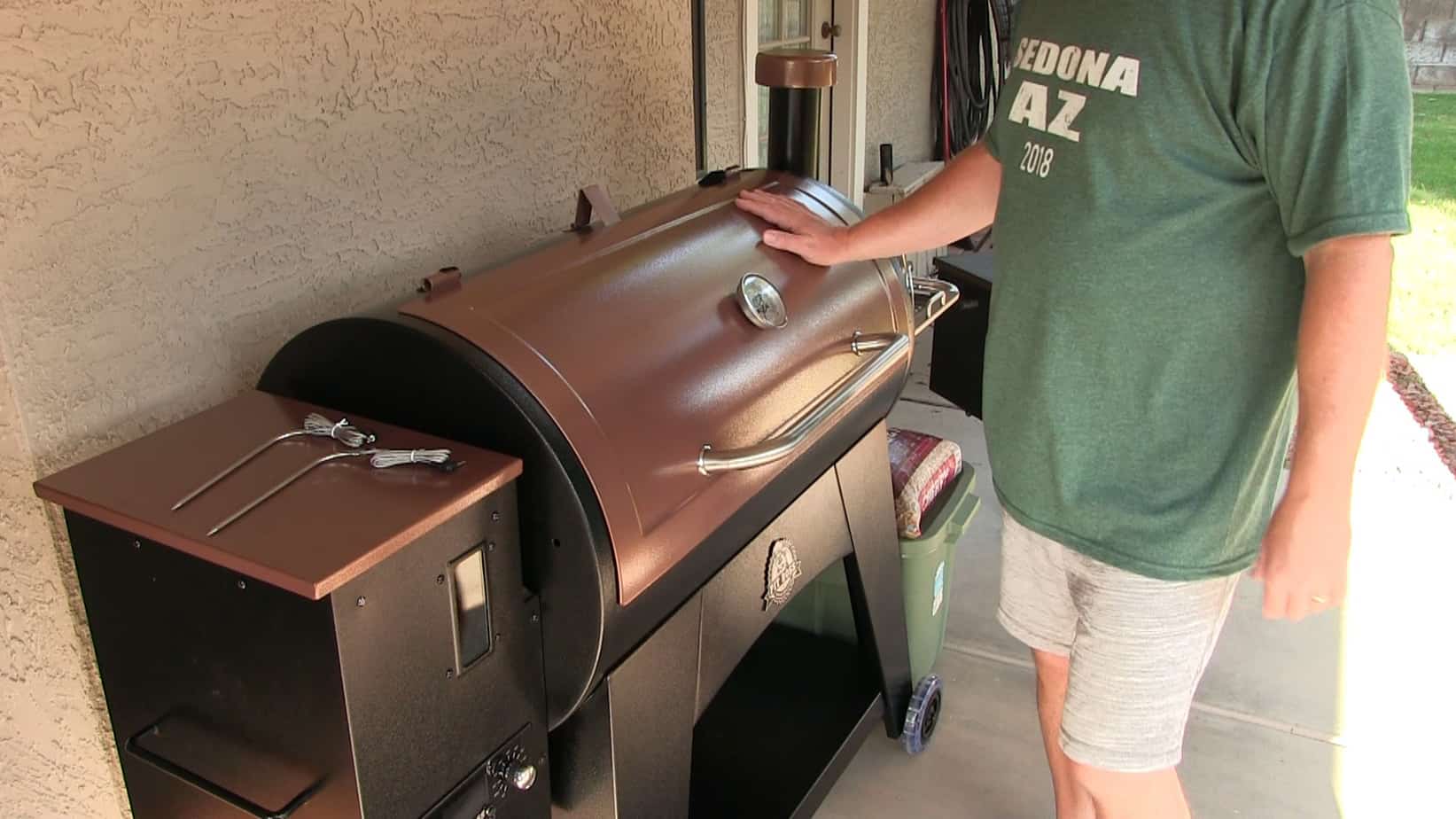 The fancy coating isn't there just to look pretty.
While the sturdy body construction adds quite a sum to the smoker's overall weight, it also significantly enhances the durability. There is just no way that this smoker can take any meaningful damage from the outside world. That is why you can leave it outdoors all the time.
There are also wheels, which are made from special materials, ensuring that they can go through anything. For example, you can move the smoker across surfaces like wood, tiles, dirt, and even grass with virtually no damage to the wheels.
Warranty
If you are familiar with Pit Boss, you must know that they rarely offer a warranty of less than 5 years. This time, the Austin XL is no different. For 5 years, Pit Boss will ensure that you get as many replacements as possible. Of course, the only requirement is that the original isn't broken by you.
Conclusion
After reading through our in-depth Pit Boss Austin XL review, we hope that you can now make your own decision. All in all, we simply cannot believe that there can be a better option for smoking enthusiasts.
You get a long warranty period, high durability, and the ability to control the heat easily in one package. Did we mention that its price is also absolutely affordable for most people?
Naturally, there are still cases where it may not be the most suitable choice. Due to it taking up too much space, people with limited living areas should not get it.