No one has found out the winner of the battle: Rec-tec vs Traeger. Both these 2 companies provide top-quality grills with different features, which have pleased tons of customers around the globe.
The grills of each brand have their own specialty. You need to determine your purposes to decide the best machine. That's why we have made this comparison to help you learn the advantages and disadvantages of both Rec-tec and Traeger grills.
Please scroll down to read and find out your favorite company!
Overview Of Rec-tec?
The Rec-tec company has started its business since 2009. In the beginning, it was just a business of 2 BBQ lovers in a small garage. But after time, Rec-tec has received the trust of many customers and become a big brand in the grill and smoker industry.
Till now, this company has provided many high-end pellet grills that support both home and professional usages. Most Rec-tec machines have the same special appearance, which is the Bull Horn Shaped handles.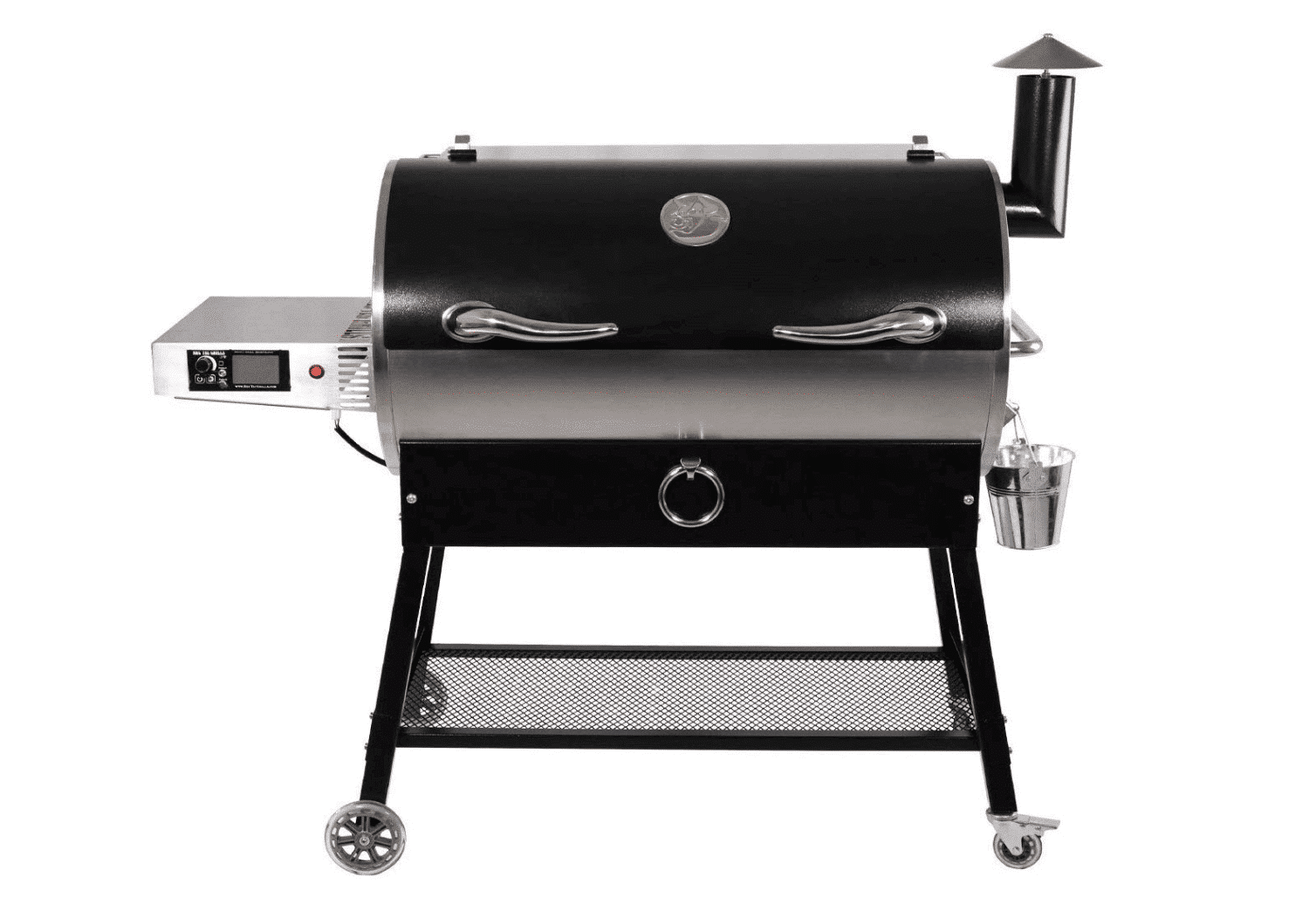 A Rec-tec grill with Bull Horn shaped handles.
In 2020, the name Rec-tec was replaced by recteq (all letters are lowercase). Although the name changes, the high quality of the grills remains the same.
Overview Of Traeger
Traeger was founded in 1985 by Joe Traeger. Traeger's founder is also the inventor of pellet grills in 1985. During the first 20 years in business, Joe Traeger has exclusively manufactured and provided many reliable and quality grills to the world market.
However, Joe's patent for inventing pellet grills expired in 2006. Since this time, many new companies, including Rec-tec, have been established and become Traeger's competitors in the pellet grill and smoker industry.
Of course, new brands can't reduce the trustability of Traeger. At the moment, Joe's company is still producing many reliable machines with many modern features.
Comparison: Rec-tec Vs Traeger Pellet Grills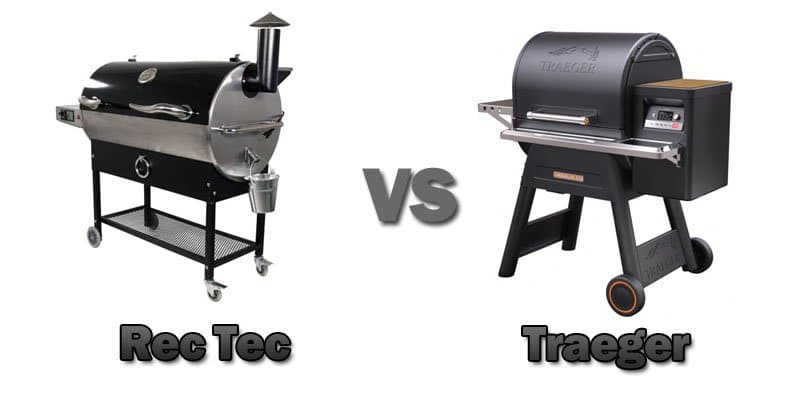 Main Differences
In this section, we will compare the features of the Rec-tec and Traeger pellet grills.
Build Quality
You can trust the construction of both Traeger and Rec-tec pellet grills. All the machines contain heavy-duty components that work at high efficiency.
There are a few differences in the materials.
Traeger grills have construction of powder-coated steel, along with porcelain-coated grated. These machines usually have a dual wall for high insulation and temperature retention.
Most components of Rec-tec grills are built of stainless steel, except the heating rod. The manufacturers usually apply ceramic for this piece of equipment. In contrast to Traeger's grills, most Rec-tec machines do not feature insulation.
Heat Range
Traeger and Rec-tec pellet grills are all the winners for operating at maximum heat. Both machines can reach 500°F.
But when it comes to the lowest heat level, the Traeger seems to be the better one. While Rec-tec grills support 200°F at the lowest setting, Traeger's can do the temperature at 150°F.
Temperature Management
Traeger grills feature a Pro D2 Controller that helps keep the heat level around +/- 15°F the desired setting. Some modern models even have the Turbo Temp function that helps boost the speed of the heating up process.
But in terms of heat maintenance, the Rec-tec will work better. The PID Controller allows the grills to work at a consistent heat level. The changes of the desired temperature during operation are just +/-5°F, a lot smaller than 15°F.
Cooking Space
Rec-tec and Traeger are all the famous pellet grill companies. Customers are free to make their decision between tons of size options.
The 2 brands have machines that feature the largest capacity of 2500 square inches. But when it comes to size options, the Traeger will be the winner.
You can not find many available sizes from Rec-tec than from Traeger. However, Traeger's big grills are quite expensive. If you look for a heavy-duty machine at a low cost, the Rec-tec will serve you better.
Pellet Hopper Size
Different models of Traeger pellet grills have different sizes of the hopper. Typically, a medium-to-large machine is equipped with hoppers, which can hold up about 18, 20, or 24 pounds of pellets. The small models will offer smaller hoppers.
In other words, a medium-to-large grill of the Traeger brand can work continuously for 18 – 24 hours without refilling. It will be great if you usually cook overnight.
In case you require a bigger hopper, go for the Rec-tec grills. The smallest model of this company already features a hopper that fits 20 pounds of pellets. The large machines will contain a bigger pellet box. Normally, the sizes will be 30, 40, or more.
The RT-CMG Beast is the Rec-tec model that includes the biggest hopper. The box can hold up to 66 pounds of pellets, enough for the appliance to work continuously for 24+ hours.
Technology
The latest models of both Rec-tec and Traeger are now featuring WIFI technology. You are able to control the machine wirelessly from a far distance. There is no need to stand by the grill the entire cooking time.
Each brand has designed a specific feature for its modern grills.
For example, the high-end models of Traeger come up with the Turbo Temp function. This feature allows the machine to heat up quickly, saving cooking time.
On the other hand, the modern grills of Rec-tec always have a cooling down system. This feature makes sure for the user's safety after completing using the grill.
Warranty
We give our compliments to the customer service of Rec-tec. This brand usually offers a warranty of 6 years for its grills. The great thing is, this warranty covers all the components of the machine.
The Traeger only supports 3 years of warranty for its machines. Although this warranty can not beat Rec-tec, it is still very good.
In fact, you probably have a little chance to use the warranty, as the grills of these distributors are extremely well made.
Extra Features
As rivals of each other, Traeger and Rec-tec always upgrade their grills to take the lead on the market. That's why you will notice that many machines have convenient features.
Traeger's grills are famous due to their downdraft exhaust system, low pellet alarm, and built-in grease management system. Unfortunately, these features are only available for expensive models.
On another side, Rec-tec grills please the customers due to their extra hot or extra-low heat settings, automatic cool-down system, and automatic cleaning system. Unlike Traeger, Rec-tec offers high-end features in most of its models.
Pros And Cons
To give you a better view, we have summarized all the strengths and weaknesses of the grills of the 2 brands.
Pros
Rec-tec
Traeger
●       Heavy-duty construction

●       Wide heat range

●       PID Controller for consistent heat

●       Large cooking space

●       Large hopper size

●       Long warranty of 6 years

●       WIFI remote

●       Extra-low and extra-high heat settings

●       Automatic cooling down system

●       Automatic cleaning up

●       High build quality

●       Wide heat range

●       Double walls for insulation

●       Many size options

●       Large cooking space

●       Built-in grease management system

●       Low pellet alarm

●       Downdraft exhaust system

●       Long warranty of 6 years

●       WIFI remote
Cons
Rec-tec
Traeger
●       Fewer size options than Traeger

●       Smaller temperature range than Traeger

●       No insulation wall

●       Worse temperature maintaining than Rec-tec

●       Smaller hopper size than Rec-tec

●       Shorter warranty than Rec-tec
Conclusion
We have explained all the advantages and disadvantages of both Rec-tec and Traeger grills. You can now decide the winner of the battle: Rec-tec vs Traeger by yourself.
The grills of each brand have unique features to support different tasks. So please consider carefully before making the buying decision.
And now, we will end our article. If you need advice on choosing the machine, feel free to get in touch with us! Many thanks for reading!